ARTWRK024 - Titled "THE WILSON NEST"
The Story of the Drawing:
We were on vacation in Grand Tetons and having a great time, it's such a beautiful part of this country. It was about the 5th day of a 7 day vacation when we bumped into this nest on the side of the road. It was such a magnificent sight, absolutely huge nest compared to any other we have seen. I actually shrunk it by about half for the drawing or it would have been too wide to make the drawing size I wanted.
This is a composition of several photos as I got the parent looking into the nest but the baby was hiding, the baby poking its head up but no parent around and finally the eagle landing. I love this drawing, it has a lot of minute detail in the feathers and nest. The nest was located over the pass from Jackson Hole in a town callesd Wilson which is how we derived at the title for the drawing.
I start by drawing a basic outline in pencil, with some more intricate pencil work on critical areas like the eyes and face area and the feet. Once I am happy with the basic lines I immediately start to draw with ink. I usually don't go back and pencil more, I just work straight form my inking pens. This can be a real challenge as there is no un-doing anything once the ink hits the paper. I used a combination of tools to draw with, but the main items are: Rotring Pens, Pigma Pens and some painted ink useing brushes. The original drawing is approximately 16x20 inches in size and drawn on heavy 300gsm watercolor paper.
Once the drawing is complete, we scan it at 800 dpi and process the scan to reflect the original as much as possible. We make a limited edition number of prints to sell. The small image size here really doesn't do the original justice, but its a fair representation.
Robert J Andersen
DETAIL IMAGE 2: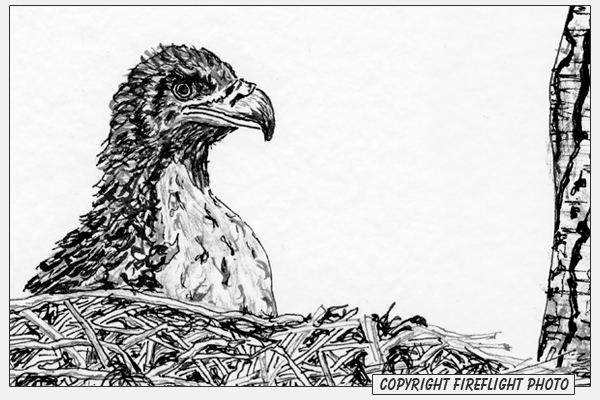 FINAL FULL DRAWING: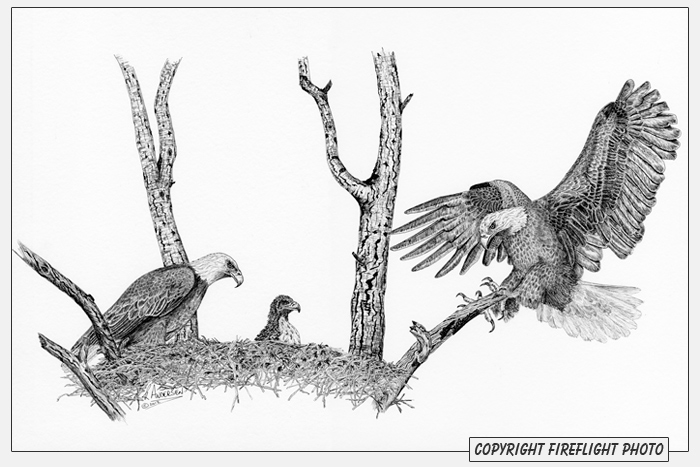 This page has been viewed 9797 times since January 1st, 2014.