ARTWRK036 - Titled "Moose Amour"
The Story of the Drawing:
I didn't intend to this this drawing, but my wife nagged me to to it and then finally got me motivated by asking for it to be her Christmas present. It's not that I didn't want to draw it, more like I had just finished a moose drawing and was looking towards another subject to draw. We had taken this photo in October of 2013 at Grand Tetons National Park, yes it is actually referenced from a photo and the two moose did look at each other in this way.
We were hiking in the back country and stopping every now and then to call moose. I saw a set of large antlers appear out of the willow leaves and realized there was a moose hiding across the river. My wife and I crossed the river and found a cow, calf and huge bull moose hanging together and photographed them for the rest of the day. We went back next day to continue to follow and photograph them, but they had moved across Snake River which was very deep and essentially put themselves on an island. We photographed them doing this from across the river, which was a little further away than we wanted to be for a quality photo. We called it moose amour because of the secret like location they put themselves in, almost like they wanted to be alone for this moment.
I start by drawing a basic outline in pencil, with some more intricate pencil work on critical areas like the eyes and face area and the feet. Once I am happy with the basic lines I immediately start to draw with ink. I usually don't go back and pencil more, I just work straight form my inking pens. This can be a real challenge as there is no un-doing anything once the ink hits the paper. I used a combination of tools to draw with, but the main items are: Rotring Pens, Pigma Pens and some painted ink useing brushes. The original drawing is approximately 16x20 inches in size and drawn on heavy 300gsm watercolor paper.
Once the drawing is complete, we scan it at 800 dpi and process the scan to reflect the original as much as possible. We make a limited edition number of prints to sell. The small image size here really doesn't do the original justice, but its a fair representation.
Robert J Andersen
DETAIL IMAGE 1: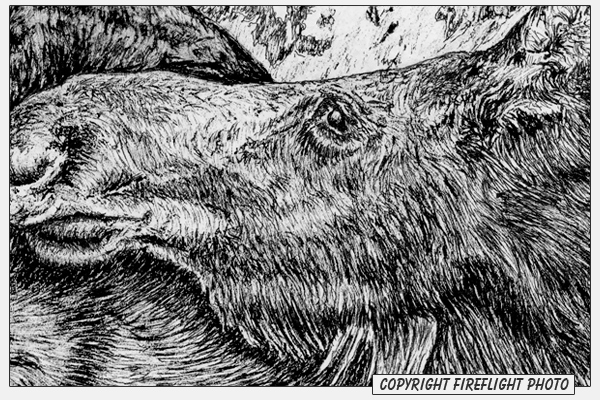 DETAIL IMAGE 2: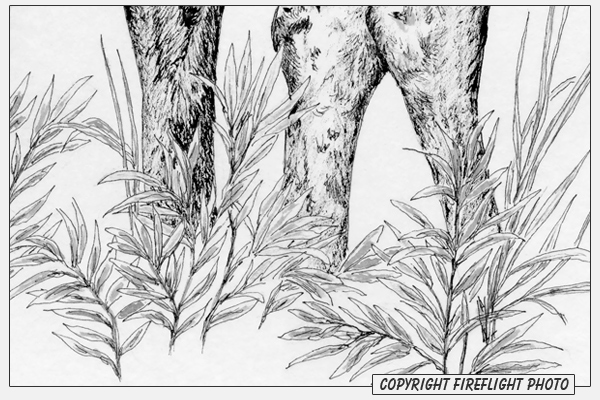 FINAL FULL DRAWING: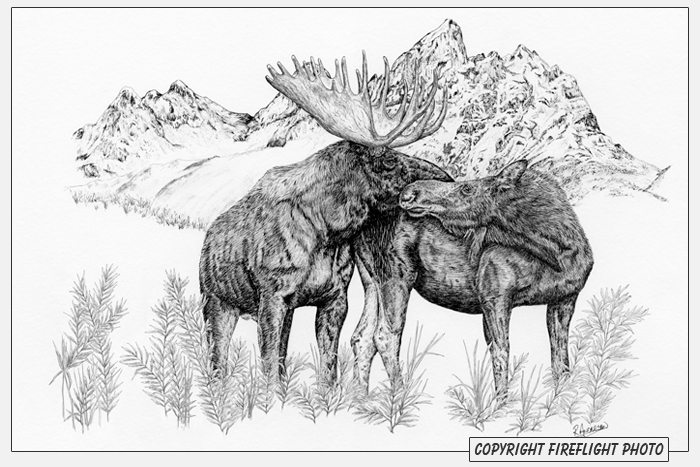 This page has been viewed 1457 times since January 1st, 2014.